I've had the privilege of some pretty great jobs.  By age 25 I'd seen three NBA championships, painted the ice for the Chicago Blackhawks, showed Hillary and Chelsea a nice time at the Centennial Olympic Games, worked the Democratic National Convention and helped the City of Chicago celebrate its 165th birthday.  Throughout my career path, marketing and customer service always remained constants.  Ten plus years in the corporate world provided me the experience and the luxury to work independently.  I am grateful for each client that shows me their trust, and in return I promise 100+ percent and complete satisfaction.  Being independent allows me to work with a wide variety of unique clients.  My goal is to offer indelible and effective services that are delivered to exceed all expectations, every time.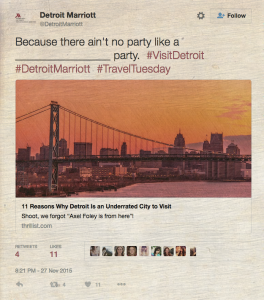 PROFESSIONAL EXPERIENCE
President, amiwoods.com
Good Hart, Michigan
08/06-present
Principal of amiwoods.com, an independent marketing company servicing businesses throughout the great state of Michigan, and beyond.  Strong focus on digital marketing, particularly social media.
Associate Director of Corporate Sales, Stafford's Hospitality, Inc.
Petoskey, Michigan
01/05-08/06
Directly responsible for sales in the corporate and association markets, created standardized selling procedures for the use at all properties, developed and maintained company website, provided marketing support to the V.P. of Hotels, generated internal and external marketing pieces, attended national trade shows as well as local public relations events, represented the Stafford's organization through local volunteer efforts.
General Manager, VenuWorks/Mackinaw Center Stage Theatre
Mackinaw City, Michigan
02/04-11/04
Responsible for the day to day operation of an 832 seat live, professional theatre hosting approximately 300 performances annually; oversaw all marketing efforts; maintained a $1.7 million operational budget; negotiated artist contracts; managed all department heads and subsequent support staff (Business Office, Human Resources, Sales & Marketing, Box Office, Guest Relations, Backstage, and Housekeeping); created complete guest service program including staff training; established all community relations efforts; developed web content and all venue collateral materials.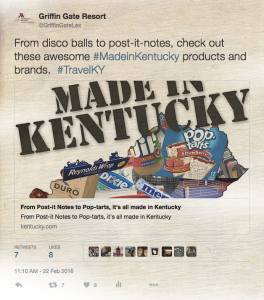 Private Events Manager, Chicago Historical Society
Chicago, Illinois
4/02-02/04
Marketed and secured all private museum events; met determined financial goals; aggressively sought new methods of revenue; managed event operations; coordinated vendors working within the venue including all catering staffs; managed departmental budget; processed client revenue and vendor royalties; prepared forecast of monthly goals; managed daily office operations; oversaw department advertising; assisted in the production of print materials; coordinated "Smooth Jazz Thursdays" summer concert series in conjunction with WNUA 95.5 FM; acted as web developer and content manager; negotiated hotel referral agreement.
Concierge, The Whitehall Hotel
Chicago, Illinois
09/11/01-02/02
Assisted hotel guests with prompt, sincerely courteous, and efficient service at all times; provided extensive knowledge of Chicago and all surrounding points of interest; acted as liaison between convention groups and local attractions; acted as front desk associate during non-peak hours.
Manager of Guest Relations and Suite Operations,
United Center
Chicago, Illinois
12/95-08/01
Hired, trained, and managed a Guest Relations staff of twenty-two, Suite Operations staff of fifty-three, and Switchboard staff of eight; created and lead   "Disney Approach" interactive training classes for approximately 1,500 team members each season; established and managed group tour program; created on-hold and event audio voice-overs including a promotional commercial for SportsChannel; designed building collateral pieces and newsletters including an Upcoming Event Brochure, Team Member Handbook, A to Z Guide, Guide for Guests with Disabilities, Recycling Program Guide, and Map Brochure;   instilled new building policies regarding entrance of children, readmittance, guest complaints, and claims; created "Front Line Management Experience" program; responded to and reconciled all guest complaints for the entire building; oversaw guest feedback programs; created staff incentive programs; acted as Manager on Duty during events; investigated and prepared responses for the legal department in regards to guest claims; worked closely with the City of Chicago Mayor's Office for People with Disabilities on ADA compliance; responsible for assuring that all team members set the standard of excellence in guest service throughout the arena (Maximum capacity 25,000; Average attendance 20,000+, 1996-98 NBA Championships, Annual NCAA Basketball Tournaments, 1996 Democratic National Convention).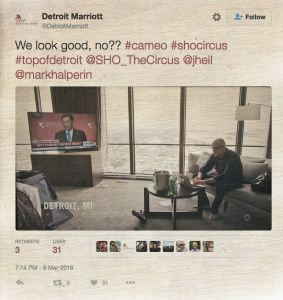 Sector Coordinator, 1996 Centennial Olympic Games
Lake Lanier, Georgia
07/96-08/96
With a team of twelve, developed a complete crowd control/guest services/venue policy program which was followed by the entire competition and venue staffs; wrote emergency evacuation plan in conjunction with the Hall County fire marshal; performed various crowd control functions on the first-ever grandstand built over water seating 13,000 guests; acted as venue security during non-event hours when volunteer participation was low; supervised Olympic volunteer staff; assisted in the actual construction and de-construction of the venue in the pre-event and post-event modes.
Public Relations Intern,
Philadelphia Flyers/Wachovia Center Complex
Philadelphia, Pennsylvania
08/94-12/94
Prepared press releases for arena events; compiled game statistics from the American Hockey League and prepared weekly reports for their AHL affiliate, the Hershey Bears; wrote monthly newsletter which was dispersed throughout the arena and Spectacor (Comcast-Spectacor), the parent corporation; assisted in the coordination of several VIP functions including a meet & greet function with professional figure skaters and underprivileged children; played a major role in the daily operation of the Public Relations Department due to the 1994 NHL lock-out.
Caterer/Server/Bartender,
Blue Plate Catering
Chicago, Illinois
Holland Country Club
Holland, Michigan
Crow's Nest Restaurant
Harbor Springs, Michigan
06/90-09/99
Planned and coordinated various private functions ranging in size from 20 to 1000+ guests; assisted in prep work prior to events and also assisted in the preparation of various appetizers and entrees on-site; acted as server, sauté chef, bartender, head butler and kitchen staff when needed; responsible for the majority of display work on-site.  I was basically a food service slave and I loved it.
Broker's Assistant, Graham Real Estate
Good Hart, Michigan
06/88-10/95
Assisted broker with client correspondence; generated mailings to perspective clients; created company brochures and marketing pieces; assisted in rental property program.
EDUCATIONAL BACKGROUND
Hope College
Holland, Michigan
Conferred, May 1995
09/91-05/95
B.A. Composite Major in Business Administration, Communications, and Marketing
Minors in Political Science and History
1995 Dean's List
1995 Marketing Internship (Holland, MI)
1994 Public Relations Internship (Philadelphia, PA)
1993 Off-Campus Geological Study Program (U.S. Virgin Islands)
1991 Graduate Harbor Springs High School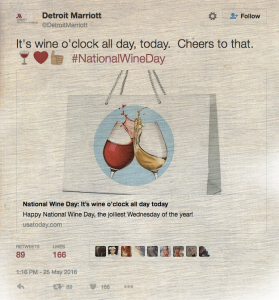 SKILLS AND VOLUNTEERISM
Emmet County Lakeshore Association (2015-Present)
The King House Association (2015-Present)
We Are Team Jersey (2012)
Knowledge of ADA Standards and Requirements
Disney Keys To Business Excellence (2009)
Online
Emmet County Republican Women (2008-Current)
Emmet County, MI
Harbor Springs Area Chamber of Commerce (2008-09)
Harbor Springs, MI
Harbor Springs High School Strive Mentor Program (2006-08)
Harbor Springs, MI
Downtown Events Committee, Petoskey Regional Chamber of Commerce (2005-07)
Petoskey, MI
Travel/Trade Show Experience at National Hospitality Shows (2001-2012)
Chicago, IL; Detroit, MI; Lansing, MI; Grand Rapids, MI
Board of Directors, Lincoln Park Tower (2003-05)
Chicago, IL
Board of Directors, Mackinaw City Chamber of Commerce (2004)
Mackinaw City, MI
Fourth Presbyterian Church Cabrini Green Tutoring Program (2001-03)
Chicago, IL
Shoot the Bull 3 on 3 Basketball Tournament (1996-99)
Chicago, IL
Disney Approach to Quality Service Conference (1998)
Lake Buena Vista, FL
Disney Approach to People Management (1997)
Lake Buena Vista, FL
Software: Microsoft Office, Adobe Creative Suite, Canvas, QuarkXPress, Fidelio, Vista, Ticketmaster
Twelve Years Professional Piano Study